Larry on Buffy

Larry's Story (with screen captures and quotes)

Larry Quotes

Larry in the Watcher's Guide - COMING SOON

Larry in the Sunnydale High Yearbook

Larry Fanfific


Poll - Favourite Larry Episode

Quiz - Test your Larry Knowledge - COMING SOON

Buffy Links - Links to Buffy sites - COMING SOON

Buffy the Vampire Slayer is a widely successful TV show, starring non other than Sarah Michelle Gellar as Buffy.
Larry Bagby III had appeared in 6 episodes of Buffy the Vampire Slayer. He first appeared in the Season Two episode Halloween, as everyone's favourite jock Larry. Larry then appeared in Phases, the season three opener Anne, The Wish, Earshot, and lastly in the 2nd part of the two-part season finale Graduation Day Part Two. Larry died defending the world. May he rest in peace.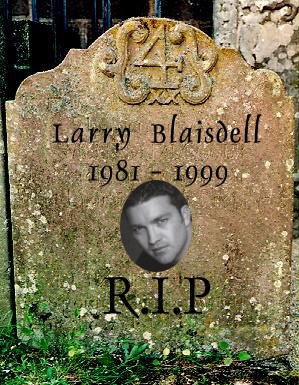 Larry's Tombstone in 1 of 14 Sunnydale cemeteries. He lays right next to our favourite technopagen, Jenny Calendar.